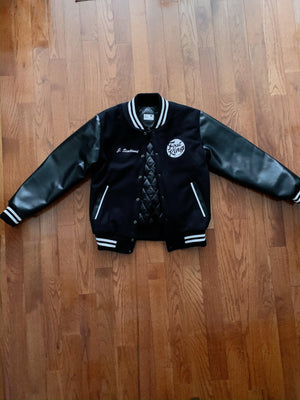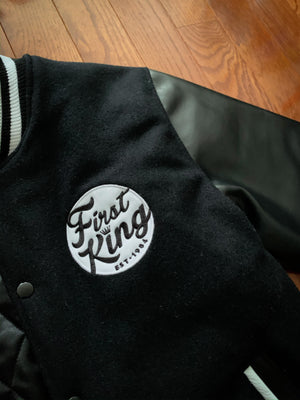 First King Clothing Custom Varsity Jacket
First King Clothing Co. Custom Name Varsity Jacket
100% Canadian 24oz Melton Wool
 Faux Leather Or Wool Sleeves (Your Choice)
Custom Quilted Satin Liner.
Premium Poly Knit Trim.
Twill & Embroidery Patched Logos.
100% Direct Embroidery Name( Nickname etc)
Please Note All Jackets Are Handmade And Made To Order, Jackets Take About 2 Weeks To Complete
Once Order Is Placed We Will Contact You Via Email To Get The Name You Want On The Jacket
For both Men And Woman We Us The Canadian Sizing Chart So All Jackets Fit True To Size, Please View Sizing Chart Below.
All Sales Are Final On Jackets
Men                                                                                   Women
Small: 36'- 37', 91cm -94cm                           Small: 34' - 35' , 86cm - 89cm 
Medium: 28' - 40', 97cm -102cm                    Medium: 36' - 37' , 91cm - 94cm
Large: 41' - 43' , 104cm - 109cm                    Large: 38' - 40' , 97cm -102cm
Extra Large: 44' - 46' , 112cm - 117cm           Extra Large: 41' - 43' ,104cm -109
2XL: 47' - 51', 119cm - 130cm                         2XL: 44'- 47', 112cm -119cm